First step to do is picking this code up and paste it on Notepad or other similar text editor software (Knote, and so on).
<!-- start good stuff --> 
<script type="text/javascript" src="http://twitter.com/statuses/user_timeline/fachia.json?callback=twitterCallback&amp;count=3&amp;named_obj"></script>
<div id="twitter-box" style="overflow: hidden; /* to hide the overflow of long urls */"> </div>
<script type="text/javascript"><!--

function relative_created_at(time_value) { // thanks to Lionel of rarsh.com for pointing out that Twitter changed their code, and this is the fix which will work in IE
var created_at_time = Date.parse(time_value.replace(" +0000",""));
var relative_time = ( arguments.length > 1 ) ? arguments[1] : new Date();
var wordy_time = parseInt(( relative_time.getTime() - created_at_time ) / 1000) + (relative_time.getTimezoneOffset()*60);
if ( wordy_time < 59 ) {
  return 'lest than 1 minute ago';
  } 
  else if ( wordy_time < 119 ) { // changed because otherwise you get 30 seconds of 1 minutes ago 
  return '1 minute ago';
  } 
  else if ( wordy_time < 3000 ) { // < 50 minutes ago
  return ( parseInt( wordy_time / 60 )).toString() + ' minutes ago';
  } 
  else if ( wordy_time < 5340 ) { // < 89 minutes ago
  return '1 hour ago';
  } 
  else if ( wordy_time < 9000 ) { // < 150 minutes ago
  return 'few hours ago'; 
  }
  else if ( wordy_time < 82800 ) { // < 23 hours ago
  return 'about ' + ( parseInt( wordy_time / 3600 )).toString() + ' hours ago';
  } 
  else if ( wordy_time < 129600 ) { // < 36 hours
  return '1 day ago';
  }
  else if ( wordy_time < 172800 ) { // < 48 hours
  return '2 days ago';
  }
  else {
  return ( parseInt(wordy_time / 86400)).toString() + ' days ago';
  }
  }
  var ul = document.createElement('ul');
  for (var i=0; i < 3 && i < Twitter.posts.length; i++) {
  var post = Twitter.posts[i]; 
  var li = document.createElement('li');
  var showTwitterName = 0;
  var showTimeFirst = 1;
  if ( showTimeFirst == 1) {
  li.appendChild(document.createTextNode(' '));
  var a = document.createElement('a');
  a.setAttribute('href', 'http://twitter.com/fachia/' + 'statuses/' + post.id);
  a.setAttribute('title', 'fachia Dot Com at Twitter.com');
  a.setAttribute('rel', 'nofollow');
  a.appendChild(document.createTextNode(relative_created_at(post.created_at)));
  li.appendChild(a);
  li.appendChild(document.createTextNode(' : '));
  }
  if ( showTwitterName == 1 ) {
  li.appendChild(document.createTextNode(post.user.name + ' '));
  }
  li.appendChild(document.createTextNode(post.text));
  if ( showTimeFirst == 0 ) {
  li.appendChild(document.createTextNode(' ')); 
  var a = document.createElement('a');
  a.setAttribute('href', 'http://twitter.com/fachia/' + 'statuses/' + post.id);
  a.setAttribute('rel', 'nofollow');
  a.setAttribute('title', 'fachia Dot Com at Twitter.com');
  a.appendChild(document.createTextNode(relative_created_at(post.created_at)));
  li.appendChild(a); 
  li.appendChild(document.createTextNode(' : ')); 
  }
  ul.appendChild(li);
  }
  ul.setAttribute('id', 'twitter-list');
  document.getElementById('twitter-box').appendChild(ul);
  -->
</script>
<!-- end experiment good stuff -->
If you've done it right then you have to do a little tricky thing. You'll need to replace the word "fachia" inside the code with your own Twitter username in order to make it works. And it could be done quickly using "Replace" menu, a Notepad's sophisticated feature. You can find it from Edit > Replace menu. Use "Replace All" to make it quicker.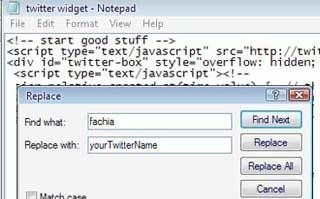 Now login to your Blogger dashboard and aim it at edit layout page (new xml). Make click a new page element at one of side bar section. A popup window should appear with some options inside. You've to choose HTML/JavaScript option and click "Add to blog".
Name your side bar title with Now on Twitter, Recent news, what am I doing or anything else as you want. Now paste the code and click save.
I'd picked this widget code from isnaini.com but I still have no idea where is it originally from. You can see how it works at my personal blog here. Enjoy your new widget!!