This could be other explanation of step by step how to set Blogger custom domain registered at GoDaddy. Actually you're able to buy your own domain directly from Blogger setting page which is done via Google check out. But if you've decided to register a domain at GoDaddy so here it is the short clear tutorial to set up correctly simple.
I assume you have a domain registered at GoDaddy and have an account there. Otherwise buy one there. Then login to your account.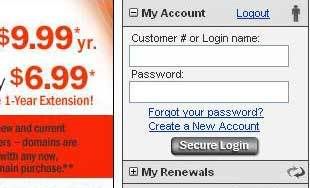 After you've logged in you should find some menus upside. Now got to Domains > My Domains menu.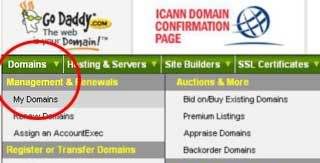 Then choose your domain that you will use as Blogger custom domain. Just click on the domain name.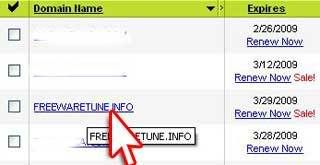 Next you should see a page with domain's properties on it. It includes several domain settings. Click at "Total DNS Control and MX Records" link.
Under CNAMES (Aliases) box, click on pencil icons for "www" coz we will edit this part.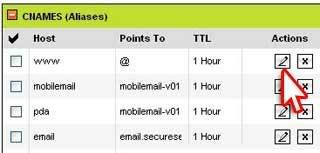 A dialogue box will appear asking for confirmation to change this setting. Just click OK button.

Now we'll try to create a new CNAME record for your custom domain. Enter "www" inside Enter an Alias Name field. And type ghs.google.com inside Point To Host Name field. Click OK.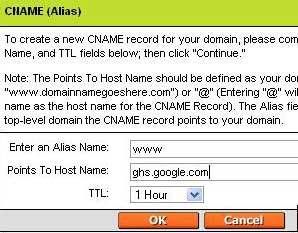 Results and Status message will be displayed so you can know that your domain has been modified successfully.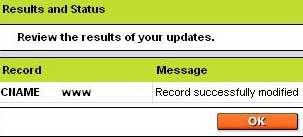 Now go to your Blogger settings page (Dashboard > Settings > Publishing). Switch to Custom Domain.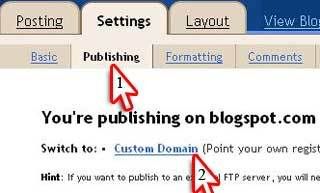 Here you can buy a domain directly from Google Checkout. But as we want to use a domain from GoDaddy then click "Switch to Advanced settings" link.

Now just type your domain name inside the field and don't forget to include "www". Save this setting.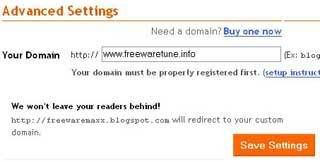 Another option will appear below custom domain field. I've try to redirect from pure url (http://freewaretune.info) to a www based (http://www.freewaretune.info) but it won't work. So I'm not sure about this option tough.

At this rate your new blog will be working fine. Just view your new custom domain at http://www.youdomain.com but you can't see it at http://yourdomain.com
If something is gonna wrong, just replay steps above. Or you might wait several minutes until your blog is redirected to newly custom domain. Next step to do is redirecting your url http://yourdomain.com to http://www.yourdomain.com using GoDaddy free hosting account.