Free Templates
Recent Post(s)
Search Design
Archives
Syndication
Blog Stats
Could be useful
Templates Stock

Spice up your blog by adding our small cool banner inside your blog pages. Simply copy and paste code below. It will not harm your blog, I swear.



Welcome to BlogTemplate20
a blog with free Blogger templates collection.
// Tuesday, June 23, 2009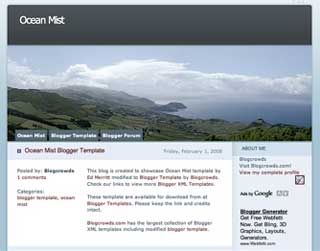 This template comes with calm, silk, and simply cool layout. This Blogger skin is better for personal blogger or even profesional business blog. Don't hesitate to try it and use it.
Labels: new
Posted at
10:11 PM</a>.

Read 3 comment(s):
At February 14, 2010 at 1:26 AM,

Anonymous said…
Interesting blog you got here. It would be great to read a bit more about that theme. Thnx for sharing that information.
At March 18, 2010 at 8:46 AM,

Anonymous said…
Pretty cool blog you've got here. Thanks the author for it. I like such themes and anything connected to this matter. I would like to read more soon.

Truly yours
At May 23, 2010 at 2:05 PM,

akur said…
i like this template.
cool and trendy