Go to bottom of ZapTXT's main page. You'll see a button with "ZapTXT FOR PUBLISHERS" on it. Just click that button carefully ;).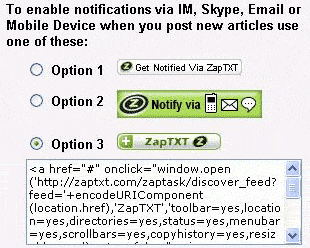 Now you'll find three options with different style each. Choose your preferred button to be used on your blog. Highlight all part of code given and copy-paste it inside your Blogger template. You can add new page element on your Blogger style dashboard. Or you'll need to find an exact location of classic template's html code.
How this tool works? The best way to know how this tool will work is by trying it by your self. Why don't you try how this tool work by clicking ZapTXT's button below this post..