Inuyasha Template
I know few of you are fans of Inuyasha series. And here we bring it to you a cool Inuyasha Blogger skin.

Inuyasha Template #2
Here it is the next variation of Inuyasha Blogger template. It could be very suitable for either personal girly use or a couple personal blogger.

Uchiha Itachi Template - Naruto series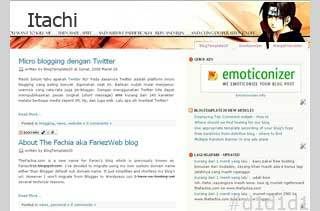 Itachi is the most powerful antagonist character from Naruto anime series. He owns famous top level Sharingan power. And now he is available as your Blogger template skin.

Jiraiya the Perverted Hermit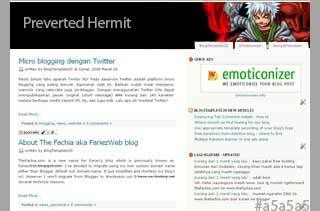 Jiraiya is who also known as "Perverted Hermit". He teaches Naruto many Ninjutsu techniques. He loves sexy girl and all about girly nasty stuff. But he owns powerful a gigantic frog monster. Now he is delivered to you as your Blogger theme for personal use. Have this cool template from naruto series.

Hatake Kakashi a copy ninja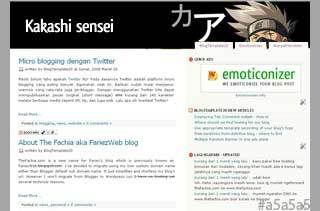 He is called Kakashi sensei by his students include Naruto it self. He is a cool teacher in Konoha village who owns Sharingan as well. This Kakashi template is very suitable for a blogger with cool character as personal blog use.

Kakashi #2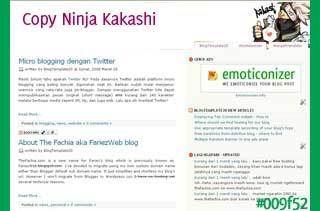 This is a very cool template with Kakashi theme on it. This template is very suitable for Kakashi's admirers. Even a girl can use this template.

Kenshin Samurai X series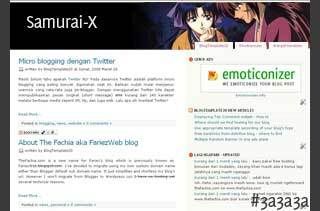 Here it is the most famous character from Samurai-X series, Kenshin Himura. He is also known as Battousai the powerful character who hold great samurai technique. The cool anime character and many girls are admiring him.

Rurouni Kenshin #2
It's just another Blogger theme with Kenshin on it. This is the must have Blogger template for Kenshin's fans.

A Funny Kenshin Blogger skin #3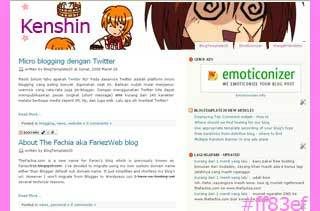 This is a cool Blogger template with funny Kenshin on it. It's very suitable for girly personal blogging.

Romantic Kenshin Blogger skin #4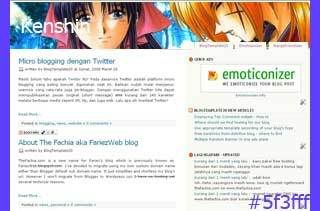 This is a Blogger template which is using Kenshin cool action in front of a girl. It's just a romantic time of Kenshin.

Naruto Series #1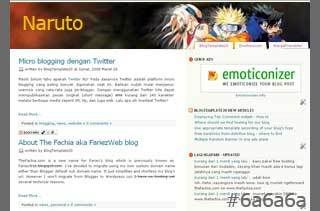 Who did not know the famous anime movie Naruto? In this template displays 3 Naruto's famous characters: Uzumaki Naruto, Sakura, and Uchiha Sasuke. It is a special template for you a Naruto fever.

Naruto Series #2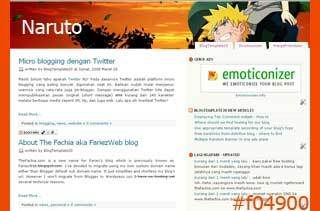 This is another Uzumaki Naruto Blogger template. Just for you the Naruto fever.

Naruto Series #3 with teachers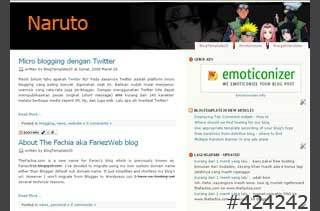 This is a Blogger template with Naruto theme. It displays a complete Naruto's team with two favorite teachers.

Naruto Series #4 complete formation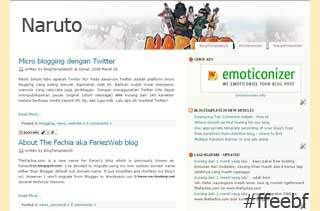 This is a Naruto Blogger template which is designed so calm with still three columns layout. Cool Blogger skin for you guys. Enjoy.

Naruto Series #5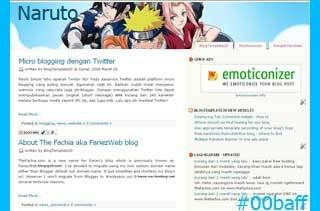 Again, it is a Naruto theme for Blogger skin. As you can see it displays Uzumaki Naruto together with his teammate. It's based on calm cool blue as its background color. It's the must have template.

Naruto Series #6 Sakura chan
Sakura is a cute girl character on Naruto series who always takes Naruto's intention. This Blogger template designed to blend with Sakura's characteristic. It uses pinky theme as well as Sakura's hair. Cool template for girly blogger.

Naruto Series #7 Uchiha Sasuke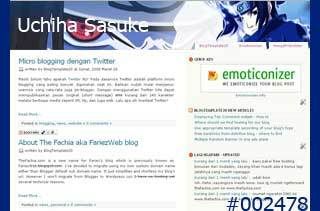 Sasuke is a young talented Shinobi from Konoha who owns Sharingan power as well as his old brother, Itachi. This Blogger template is brought up to you who loves a cool action of Sharingan eyes. So download and use it guys.

Naruto Series #8 Tsunade Sama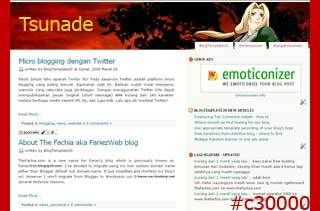 She is also called Granny Tsunade. Tsunade is a powerful woman Shinoby who owns big boobs. I think Naruto always see at her sexy shaped boobs often. But Tsunade is a next Hokage coz her strength. Oups, so this cool template is also suitable for personal use by a girly and sexy female blogger.

Template Usage
You may download templates above but please read short guidance about how to use the templates.
Download the template you want and extract it using WinRAR or WinZip (coz it's zipped). You should find .xml file.
Install or upload the xml file of the template. Don't know how to? Read here.
DO NOT view your blog at first. Go to Template > Page Elements.
Edit "Search" widget and copy-paste this code.
<p><form id="searchthis" action="/search" style="display:inline;" method="get">
  <input id="search-box" name="q" size="10" type="text"/>
  <input id="search-btn" value="Search" type="submit"/>
  </form></p>
Then edit "Recent Posts" widget and copy-paste this code. Change blogtemplate20 with your own Blogger blog.
<ul>
  <script style="text/javascript" src="http://duniaanda.googlepages.com/typoxp-recentposts.js">
  </script>
  <script style="text/javascript">
  var numposts = 5;
  var showpostdate = true;
  var showpostsummary = true;
  var numchars = 100;
  var standardstyling = true;
  </script>
  <script src="http://blogtemplate20.blogspot.com/feeds/posts/default?orderby=published&alt=json-in-script&callback=showrecentposts">
  </script>
  </ul>
Now edit "Recent Comments" widget and copy-paste this code. Change blogtemplate20 with your own Blogger blog.
<ul>
  <script style="text/javascript" src="http://duniaanda.googlepages.com/typoxp-recentcomments2.js">
  </script>
  <script style="text/javascript">
  var numcomments = 5;
  var showcommentdate = false;
  var showposttitle = true;
  var numchars = 100;
  var standardstyling = true;
  </script>
  <script src="http://blogtemplate20.blogspot.com/feeds/comments/default?alt=json-in-script&callback=showrecentcomments">
  </script>
  </ul>
You are able to customize your own look and feel layout. Go to Template > Fonts and Colors then change fonts and colors style as you like, mainly the name and tittle of your blog colors.
Note: Templates downloaded from this page are NoFollow removed. It means you'll have a DoFollow version of Blogger templates. Plus, I've replaced AddThis.com bookmarker with the one from BeautifulBeta. In Addition, if some parts of your blog template are not displayed correctly, it could be caused of bandwith limit of duniaanda.googlepages.com - then replace all links streamed via that server to blogtemplate20.googlepages.com or just create your own googlepages.
Enjoy but give me comment please..